*****************************Call of Duty Modern Warfare 3 (PC/ENG/2011)******************************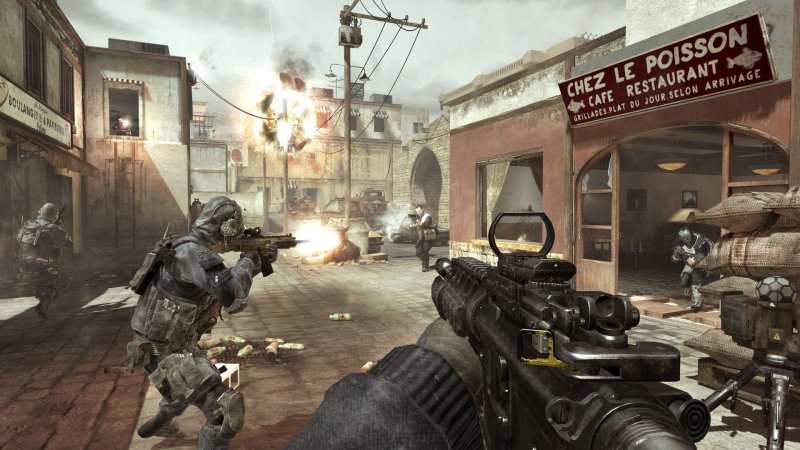 DESCRIPTION :
Call of Duty: Modern Warfare 3 (stylized as Call of Duty: MW3) is an upcoming first-person shooter video game currently in development by Infinity Ward and with assistance from co-developers Sledgehammer Games and Raven Software assisting multiplayer development. It will be the third installment in the Modern Warfare series, and the eighth Call of Duty installment in total. As of now the game has been confirmed to take place in America, England, France and Germany. There is speculation that parts of the game may take place in Russia, as the Find Makarov trailer included the pilot shouting that he did "not want to crash in Moscow."
Modern Warfare is back. On November 8th, the best-selling first person action series of all-time returns with the epic sequel to the multiple Game of the Year award winner Call of Duty: Modern Warfare 2.
* The definitive multiplayer experience returns bigger than ever.
* Special Ops co-op reinvented with all-new survival mode.
MINIMUM SYSTEM REQUIREMENTS :
OS: Windows XP, Windows Vista or Windows 7
CPU: Intel Core 2 Duo E6600 or AMD Phenom X3 8750 processor or better
RAM: 2 GB
GFX: Shader 3.0 or better 256 MB NVIDIA GeForce 8600GT / ATI Radeon X1950 or better
DX: 9.0c or later
HDD: 16 GB free hard drive space
INSTALL NOTES :
1. Unrar
2. Burn or mount the image
3. Install the game
4. Copy over the cracked content from the Crack dir on DVD2 to your installation dir
5. Play the game
Total size : 14.50 GB
DOWNLOAD LINKS
:-
SharpFile
Quote :

sharpfile.com/bnr4v3hf89cp/CoD---MW3---RELOADED.part01.rar.html
sharpfile.com/cy34j2dtm/CoD---MW3---RELOADED.part02.rar.html
sharpfile.com/t6nbqfj3c/CoD---MW3---RELOADED.part03.rar.html
sharpfile.com/t7dymb6z4/CoD---MW3---RELOADED.part04.rar.html
sharpfile.com/rbh7vmd8k2x/CoD---MW3---RELOADED.part05.rar.html
sharpfile.com/k2m4ghtb/CoD---MW3---RELOADED.part06.rar.html
sharpfile.com/ckjqnr3t2/CoD---MW3---RELOADED.part07.rar.html
sharpfile.com/x6h3mpdn/CoD---MW3---RELOADED.part08.rar.html
sharpfile.com/ykb96rgqjdt/CoD---MW3---RELOADED.part09.rar.html
sharpfile.com/7bmhr2nx/CoD---MW3---RELOADED.part10.rar.html
sharpfile.com/b24kjtprqx36/CoD---MW3---RELOADED.part11.rar.html
sharpfile.com/4z2pmhvx3j6/CoD---MW3---RELOADED.part12.rar.html
sharpfile.com/vf9ntwcd6/CoD---MW3---RELOADED.part13.rar.html
sharpfile.com/94tmnzr3/CoD---MW3---RELOADED.part14.rar.html
sharpfile.com/c624dntvfb/CoD---MW3---RELOADED.part15.rar.html
FileSturm
Quote :

filestrum.com/m8jzda1pukoh/CoD_-_MW3_-_RELOADED.part01.rar.html
filestrum.com/0rcdjmedopv1/CoD_-_MW3_-_RELOADED.part02.rar.html
filestrum.com/xfhynn9pv04k/CoD_-_MW3_-_RELOADED.part03.rar.html
filestrum.com/fza0oa4mzi3i/CoD_-_MW3_-_RELOADED.part04.rar.html
filestrum.com/wpf6qa7rs1xn/CoD_-_MW3_-_RELOADED.part05.rar.html
filestrum.com/hisqom8bib77/CoD_-_MW3_-_RELOADED.part06.rar.html
filestrum.com/jc1jq5tetmim/CoD_-_MW3_-_RELOADED.part07.rar.html
filestrum.com/fynxjrvo5zzt/CoD_-_MW3_-_RELOADED.part08.rar.html
filestrum.com/ldmlpvicrw3r/CoD_-_MW3_-_RELOADED.part09.rar.html
filestrum.com/sypiusljtdaw/CoD_-_MW3_-_RELOADED.part10.rar.html
fillestrum.com/r8wrnl1x5eeb/CoD_-_MW3_-_RELOADED.part11.rar.html
filestrum.com/2li50or96125/CoD_-_MW3_-_RELOADED.part12.rar.html
filestrum.com/sgtyccyvq8ps/CoD_-_MW3_-_RELOADED.part13.rar.html
filestrum.com/qo5fcjkti05p/CoD_-_MW3_-_RELOADED.part14.rar.html
filestrum.com/xf5b231buaxr/CoD_-_MW3_-_RELOADED.part15.rar.html